The power of community advocacy! (Case of Emily)
25.06.2023
Life has dramatically changed for Emily living with disability in the small community of Kaphuta village in Malawi. From spending her days locked up at home; she is now welcomed in school and society as a citizen too.
The first time Chikondi Majawa met Emily, she didn't really meet her. She just heard her through the door to the house of the family.
Chikondi Majawa is a stay home mother, 35 years, and mother of four children. She is also a community champion trained to identify children with disabilities who are out of school. Among the tasks that the group of champions has decided to do is to tour the community on school days, looking for children who are not in school. This was one of those days and her route brought her to pass the home of Emily.
At that time Emily was 12 years old, living with her mother and siblings in Kaphuta Village in Mzimba district in the northern Malawi. She is born with Cerebral Palsy, a condition causing severe challenges to her balance and muscle coordination as well as jerky, involuntary movements, excessive drooling, and some level of intellectual disability.
She was at home, alone. Locked up in the house to avoid her to get lost or get hurt and crying loud enough for Chikondi Majawa to hear her from afar.
"It is a common phenomenon in the communities for families of children with disability to keep them at home because of the stigma and discrimination it attracts from the community, says Connex Kafera, Advocacy and Communications Officer at the organization Fount for Nations.
And Emily used to be one of them, loved by her family but living a life largely excluded from society and with no access to school.
Community champions fight for inclusive education
Fount for Nation is part of the transnational project, Pamodzi for inclusive Education in South-East Africa, supported by Education Out Loud and one of their initiatives has been to train members of the local communities to become community champions on inclusive education.
Chikondi Majawa has been a member of the Kaphuta Community Champion group for over a year now. She dedicates her time in addressing child rights issues especially those that affect the girl child and children with disabilities. Touring the community to identify children out of school was part of their action plans that involved community members to identify children with disabilities and identify the needs to be lobbied for to duty bearers.
The meeting with Emily made Chikondi Majawi gather the group and engage with Emilys family to see if anything could be done to help ensure her wellbeing and her right to education.
The family is mainly catered for by Emily's two elder brothers of 16 and 21 years old, who have left school to provide for their mother and sister. The father left many years ago and the mother is often not at home due to other obligations. On those occasions the brothers see no other alternative than to lock Emily in the house.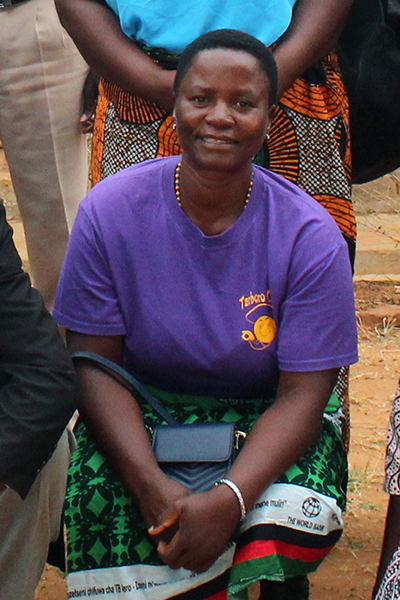 "No one had ever really considered taking her to school or in any way pursue an education for her. For practical reasons but also because stigma and discrimination coupled with shame to the family often make the families feel they should hide away children with disabilities," says Connex Kafera from Fount for Nations.
A wheelchair for Emily
But the community champions supported by Fount for Nation held several meetings with Emily and her family sensitizing them about the benefits of education and how the rights count for people with disability as well.
Part of their training had also showed them how to lobby for remedies such as a wheelchair to allow Emily to move around more freely and even get all the way to school. They reached out to Malawi Against Physical Disability (MAPD) and successfully secured a wheelchair.
After several runs of dialogue with the family and the delivery of the wheelchair, the family is now supporting Emily in pursuing education and help ensure that she gets to school.
At the same time there has been an effort to sensitize the community on how to accept and protect children with disabilities. Among other things that means that children are playing with Emily and fellow students even pick her from home and help push the wheelchair to and from school.
Although Emily now has mobility to access the school, her future is uncertain. She is far behind her peers and is unlikely to catch up as her challenges are both physical and mental. Moreover, in her community as in most of Malawi there is a lack of infrastructure to accommodate children with special needs, the learning resources and tools are inadequate or inaccessible and there are very few teachers with special needs abilities.
"The community champions have opened Emily's world and have eased the stigma around people with disabilities. But there are still many challenges that we need to address," says Connex Kafera.
The Community Champions Project
Pamodzi for inclusive Education in South-East Africa (PIESEA) is a project implemented by four organizations in Malawi, Kenya, and Tanzania. In Malawi, it is implemented by Rays of Hope and Fount for Nations.
The project focuses on narrowing the gap that exists between policies and implementation in the region.
The project trained Community Champions to advocate for changes in behavior, culture and beliefs that infringe on the rights of learners with diverse needs.
These Champions use different strategies to address key challenges facing learners with diverse needs.
They take advantage of community gatherings such as funerals and development meetings called by chiefs to hold awareness campaigns highlighting some of the inhumane practices in the communities and steps that should be taken to address them. All these intended at increasing awareness of inclusive education in the communities of Malawi.
The champions further hold periodic meetings with school management committees in their communities focusing on inclusive education. These meetings have paved a platform for community members to discuss challenges and solutions that impede inclusion in schools.
The champions also conduct home visits to households of learners with diverse needs. These visits have in turn provided opportunity for the champions to interact with parents of learners with diverse needs. Through this, the champions have been able to appreciate the various challenges the households are experiencing regarding their children's education.